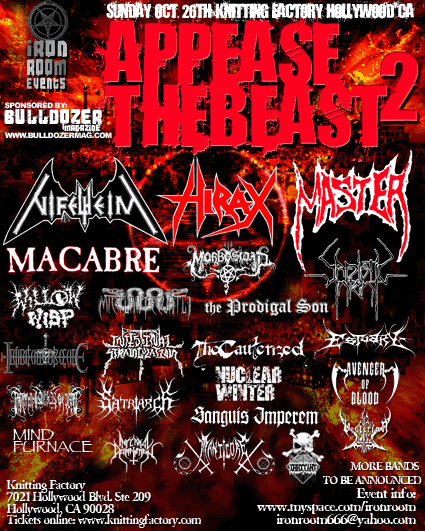 SCHEDULE: October 26th 2008 @ Knitting Factory - Hollywood,CA
Main Stage:
5:00-5:30 Infernal Damnation
6:00-7:30 Irritant
7:00-7:30 The Prodigal Son
8:00-8:30 Mictlantecuhtli
9:00-9:35 Sadistic Intent
10:00-10:35 Master
11:00-11:45 Hirax
12:15 Nifelheim
Front Stage:
4:30-5:00 Vesterian
5:30-6:00 Sanguis Imperem
6:30-7:00 Infinitum Obscure
7:30-8:00 Willow Wisp
8:30-9:00 Estuary
9:30-10:00 Manticore
10:30-11:00 Morbosidad
11:30-12:15 Macabre
Alterknit Lounge:
4:30-5:00 Intestinal Strangulation
5:30-6:00 The Cuaterized
6:30-7:00 Satriarch
7:30-8:00 Nuclear Winter
8:30-9:00 Lightning Swords of Death
9:30-10:00 Avenger of Blood
10:30-11:00 Mind Furnace
Appease The Beast II took place this passed weekend on October 26th 2008 at the Knitting Factory in Hollywood,CA and my oh my were they a lot of metalheads! The event began at 5PM lasting long into the night wrapping up completely around 1AM. Each band glamming out with spiked bracelets and wristbands, t-shirts displaying their idol band, fellow fans drinking and chanting or singing-along to the tunes they knew as each band tore up the stage one by one. Irritant through together a rough roaring set sending chills up my spine as the guitars broke out, into their creative riffs and killer solos, breaking all sound barriers possible. The vocals brought an out-standing growling effort bouncing off the guitars and drums keeping up with one another as their half hour set brought the heads spinning and mosh pit bleeding. The blood flow kept on coming when Satriarch took over frontwomen bassist Raquel Centeno growled into the microphone spilling her guts and soul into her performance as the rest of the band followed the roughness, backing her up. The drumming was done fast and energetic getting the crowd dancing to the beat by pushing each other into one another. Willow Wisp erupted the whole event in their blood drenched bodies and make-up plastered across their face, breaking into their heavy roaring tunes, smashing their fists into the ground, and drolling blood onto everyone's faces. Willow Wisp through together a set unlike any other, the drummer brought to the center of the floor a trashcan which he broke out into a mini solo then brought a hammer to it smashing it to pieces as fans surrounding him cheered and chanted as Willow Wisp wrapped up their set in a bloody ending it made you slip and slide onto the next act. Which was Mictlantecuhtli who brought out a singer with spikes going up and down his arms growling and spitting beer into the audience like he could care less. The guitars were fast driven keeping up with the drums as the vocalist entertained the crowd going right up to the fans shaking their fans as he growled his heart into the microphone. Avenger of Blood was left alone when their performance kicked off, thrashing their heads like they just didn't care, had the guitars whipping out amazing solos as the guitarist hopped into the crowd going into a solo as the drums and other guitarist broke into their solos building up the pace and energy taking their music to the next level getting the crowd up and running banging their heads to each tune played. Master which brings thrashers Slayer to mind, has frontmen bassist rocking and growling his lungs out as his guitarist and drummer follow through, creating a fast source of energy that never stops pulsing out. Each song performed being much more intense and brutal than the last one, wrapping everything up clean as the pit cleared away. Appease The Beast II was indeed a total beast just waiting to unleash itself, and unleash it did. Bringing together not only die hard fans, but killing everyone who witnessed the mayhem that had unfolded itself.